My Blog
Posts for: February, 2019
By Dental Wellness of Lexington
February 08, 2019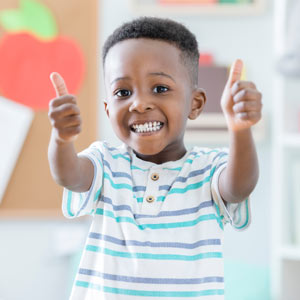 February is National Children's Dental Health month, sponsored annually by the American Dental Association. As important as good oral health is to a child's overall health and development, tooth decay tops the list as the most common chronic childhood disease. In fact, over 40% of children ages 2-11 have had cavities in their baby teeth.
If unchecked, tooth decay can have a profound impact on a child's quality of life. The good news is that tooth decay is preventable, and often reversible if detected early. Here are some things you can do to set your child on the path to good dental health for life:
Get your child in the habit of brushing and flossing every day. Cavity prevention starts at home, so teach your child to brush twice a day with fluoride toothpaste—but use only a smear of toothpaste the size of a grain of rice before age 3, and a pea-sized amount from ages 3-6. Introduce dental floss into the routine when you notice that your child's teeth are starting to fit closely together. Children generally need help brushing until age 6 or 7 and flossing until around age 10.
Encourage tooth-healthy eating habits. Provide your child with a balanced diet with plenty of vegetables, fruits and whole grains. Stay away from sugary snacks and beverages, especially between meals. If children drink juice, they should do so with meals rather than sipping juice throughout the day or at bedtime. Even 100% juice has natural sugars and can be acidic, which can harm teeth with prolonged exposure.
Establish a dental home early. Tooth decay isn't always easy to spot with the naked eye, so regular dental visits should start no later than a baby's first birthday. We can check the development of your child's teeth and spot any issues of concern. The earlier tooth decay is caught, the less damage it can do. Even if there are no dental problems, establishing a dental home early on will help your little one feel comfortable at the dental office.
Ask about preventive dental treatments. Fluoride varnishes or rinses are frequently recommended to help prevent cavities, particularly for children at higher risk of getting cavities. Dental sealants, another preventive treatment, are a coating commonly applied to molars to seal out tooth decay. According to the U.S. Centers for Disease Control, children ages 6-11 with dental sealants have nearly three times fewer cavities than children who do not have sealants.
The key to healthy smiles for life is to start your child at a young age with good habits at home and regular dental visits. If you have questions about your child's dental health, call us or schedule a consultation. You can learn more in the Dear Doctor magazine articles "How to Help Your Child Develop the Best Habits for Oral Health" and "Top 10 Oral Health Tips for Children."
By Dental Wellness of Lexington
February 01, 2019
You have been diagnosed with Obstructive Sleep Apnea, or OSA. You hesitate to use the CPAP machine from your sleep physician. Is there an alternative treatment? Yes, there is, and it's available from Dental Wellness of Lexington. Both Dr. Anthony Feck and Dr. Maxie Combs are members of the American Academy of Dental Sleep Medicine They offer qualified patients oral appliance therapy to counter sleep apnea. Read here about how these Lexington, KY, dentists could help you.
Just what is sleep apnea?
Sleep apnea affects up to 20 percent of American adults, advises the National Sleep Foundation. What does this sleep disorder involve? Basically, people stop, or cease, breathing periodically when they sleep at night or nap during the day. They repeatedly awaken, gasping for air, and exhibit other symptoms such as:
Extremely loud and persistent snoring
Daytime sleepiness
Irritability
Depression
Poor concentration ("brain fog")
Besides these symptoms, sleep apnea has far reaching health effects such as diabetes, memory issues, dementia, high blood pressure and more.
Sleep apnea falls into three categories, namely:
Obstructive Sleep Apnea, or OSA, where the soft tissues at the back of the throat relax and cover the airway as the person sleeps
Central Sleep Apnea (CSA) in which the brain does not signal the respiratory system to take a breath
Mixed Sleep Apnea, which is a combination of the above two
This dangerous sleep disorder happens more to men (by a ratio of two to one) than to women. Age (over 40) and being overweight factor into the diagnosis, too.

People who suspect they have this sleep disorder should speak to their primary care physicians who often refer to sleep physicians for definitive diagnoses by in-depth sleep studies.

A common treatment
Sleep physicians often prescribe CPAP, or Continuous Positive Airway Pressure, machines to combat sleep apnea, particularly when the diagnosis is CSA. A bedside CPAP machine is used at night to deliver a steady airflow through a nasal mask to the wearer. This air keeps the airway open, stopping most episodes of sleep apnea.
However, some people find CPAP therapy intolerable. They dislike the mask and the bulky, claustrophobic feeling it can create. The machines can be noisy, require diligent cleaning and present travel problems.

How your Lexington, KY, dentist can help
Oral appliance therapy offers a great alternative to CPAP. Dr. Feck and Dr. Combs prescribe customized acrylic devices which fit comfortably inside the mouth. Resembling sports mouth guards, oral appliances are worn whenever a patient sleeps. An oral appliance positions the lower jaw in a more forward position and thus keeps the airway open and functioning. Snoring is greatly reduced as are the episodes of apnea and startling awake.

Do you qualify?
Why not come to Dental Wellness of Lexington for a consultation? Your dentist will discuss your sleep apnea diagnosis with you and show you how an oral appliance could help you have better sleep and better overall health. Call today: (859) 223-4644.