My Blog
Posts for tag: root canal treatment
By Dental Wellness of Lexington
October 21, 2018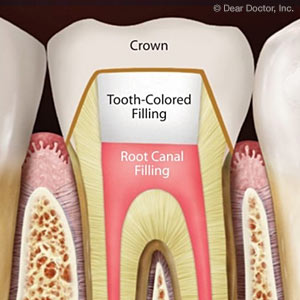 A tooth with deep decay is in real peril. If the disease isn't stopped, it can eventually infect the bone and greatly increase the risk of losing the tooth. But tooth decay removal and a root canal treatment can stop advancing decay and resulting infection in its tracks.
During this common procedure we first drill into the tooth to access the inner pulp. After removing the infected pulp tissue, we disinfect and fill the empty chamber and root canals with gutta percha. We then seal the tooth and crown it to protect against re-infection.
But while most root canals are successful and long-lasting, sometimes the tooth becomes re-infected. Here are 3 factors that could affect the long-term success of a root canal treatment.
Early treatment. Like many health problems, the sooner we detect decay and treat it, the better the outcome. A tooth in which the infection has already advanced beyond the pulp is at greater risk for re-infection than one in which the infection is localized in the pulp. Keeping up your regular dental visits as well as seeing the dentist at the first sign of abnormality—spots on the teeth or pain—can increase your chances of early diagnosis.
Tooth complications. Front teeth with their single roots and canals are much easier to access and treat than a back molar with an intricate root canal network. Root canals can also be extremely narrow making them easy to miss during treatment. In cases like this the expertise and advanced equipment of an endodontist (a specialist in root canal treatment) could help increase the odds of success in complex situations.
The aging process. Teeth do wear over time and become more brittle, making them increasingly susceptible to fracture. A previous root canal treatment on an aging tooth might also increase the fracture risk. To avoid this, it's important for the tooth to receive a crown after the procedure to protect the tooth not only from re-infection but undue stress during chewing. In some situations, we may also need to place a post with a bonded composite buildup within the tooth to give it extra support.
Even if a tooth has these or similar complications, a root canal treatment may still be advisable. The benefits for preserving a decayed tooth often far outweigh the risks of re-infection.
If you would like more information on root canal treatments, please contact us or schedule an appointment for a consultation. You can also learn more about this topic by reading the Dear Doctor magazine article "Root Canal Treatment."
By Corporate Center Dental Care
May 17, 2017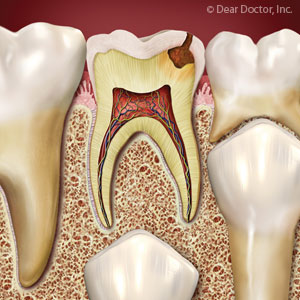 Primary (baby) teeth might not last long, but their impact can last a lifetime. Their first set of teeth not only allows young children to eat solid foods, but also guide permanent teeth to form and erupt in the proper position.
Unfortunately, primary teeth aren't immune to tooth decay. If the decay is extensive, the tooth may not last as long as it should. Its absence will increase the chances the permanent teeth won't come in correctly, which could create a poor bite (malocclusion) that's costly to correct.
If a primary tooth is already missing, we can try to prevent a malocclusion by installing a "space appliance." This keeps nearby teeth from drifting into the empty space intended for the permanent tooth. The best approach, though, is to try to save a primary tooth from premature loss.
We can often do this in much the same way as we would with a permanent tooth — by removing decayed material and filling the prepared space. We can also perform preventive applications like topical fluoride or sealants that strengthen or protect the tooth.
It becomes more complicated, though, if the pulp, the interior of the tooth, becomes decayed. The preferred treatment for this in a permanent adult tooth is a root canal treatment. But with a primary tooth we must also consider the permanent tooth forming below it in the jaw and its proximity to the primary tooth. We need to adapt our treatment for the least likely damage to the permanent tooth.
For example, it may be best to remove as much decayed structure as possible without entering the pulp and then apply an antibacterial agent to the area, a procedure known as an indirect pulp treatment. We might also remove only parts of the pulp, if we determine the rest of the pulp tissue appears healthy. We would then dress the wound and seal the tooth from further infection.
Whatever procedure we use will depend on the extent of decay. As we said before, our number one concern is the permanent tooth beneath the primary. By focusing on the health of both we can help make sure the permanent one comes in the right way.
If you would like more information on caring for children's primary teeth, please contact us or schedule an appointment for a consultation. You can also learn more about this topic by reading the Dear Doctor magazine article "Root Canal Treatment for Children's Teeth."
By Corporate Center Dental Care
October 26, 2016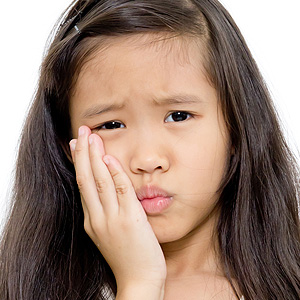 Primary (baby) teeth don't last long. But despite their short life span, they do a number of important things, like enabling a child to eat solid food. But perhaps their most important long-term function is "paving" the way for their permanent replacements.
If one is lost prematurely, though, the permanent tooth might not come in properly aligned. That's why if a primary tooth is in danger of loss due to decay or injury, we'll do our best to save it.
But that could get a little tricky if the infected or damaged part of the tooth is the innermost pulp. If it were an adult tooth, the best course might be a root canal treatment: access the pulp, clear out the diseased tissue, and then fill the space with a special filling. But with a primary tooth (or a young permanent tooth for that matter) that may not be advisable.
That's because the pulp plays a more important role in a child's tooth than an adult's. Its nerves and other tissues stimulate dentin growth; a full root canal could disrupt that growth and weaken the tooth in the long run.
With a child's tooth, we proceed carefully depending on how infected or damaged the pulp might be. If it's only slightly exposed or not at all, we try then to remove as much decayed tooth material outside the pulp as necessary, then apply antibacterial agents or dentin growth stimulators.
If we do have pulp exposure, we'll try to remove only as much of the affected pulp as necessary through a procedure called a pulpotomy. This technique will only be used if the remaining pulp looks healthy or restorable to health.
If not, we may need to perform a pulpectomy to remove the entire pulp. Most like a typical root canal, it's a last resort: without the pulp, dentin growth could be stunted and the tooth won't develop as healthy as it should.
Of course, the best approach is to prevent teeth from developing such problems in the first place. So, be sure to practice effective daily hygiene with your child and keep up regular dental visits beginning at age one.
If you would like more information on treating decayed primary teeth, please contact us or schedule an appointment for a consultation. You can also learn more about this topic by reading the Dear Doctor magazine article "Root Canal Treatment for Children's Teeth."