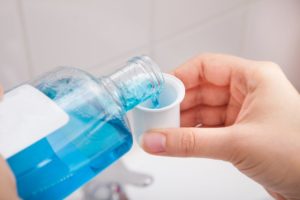 For the past couple of months, your dentist in Lexington, KY has only been treating patients with dental emergencies, like serious toothaches or knocked-out or broken teeth, per the recommendations of the American Dental Association. Now, many dentists have begun opening back up for regular treatments like checkups and fillings again. However, if you have visited your dentist recently, you may have noticed that things seem to be a little different these days. One difference is that your dentist likely asked you to rinse your mouth out before your appointment started. Why? Keep reading to find out.
Why Is Your Dentist Asking You to Rinse Before Your Appointment?
Your dentist is asking you to rinse because they want to get rid of as many germs that are in your mouth as possible. Some of these germs could even be the ones that cause COVID-19, and you might not even be aware of it since you could have the virus for several days before displaying symptoms. While most common mouthwashes have not been tested against the specific pathogens that cause COVID-19, they are particularly effective against the germs that cause bad breath, plaque, and gum disease.
When you're being treated by your dental team, you could be unknowingly breathing these pathogens onto your dentist and their assistants. Additionally, these germs could deposit themselves back onto the dental chair, where they could infect the patients who come in after you. All in all, it couldn't hurt to rinse with mouthwash before beginning your appointment.
How Else Is Your Dentist Protecting You Against COVID-19?
Your dentist is following all of the CDC's and American Dental Association's guidelines for keeping safe during the COVID-19 pandemic, which includes practices like:
Wearing additional person protective equipment (PPE) such as double face masks, face shields, shoe coverings, and surgical gowns
Using both centralized as well as area disinfection and sterilization treatments
Thoroughly disinfecting treatment rooms in between patients
Having patients wash their hands upon arrival
Having wide hallways and spacious treatment rooms
Even before this whole pandemic started, your dentist's office was one of the cleanest places you could possibly be. These days, dentists all around the world have taken additional precautions to make their patients feel as safe as possible and minimize the already low risk of contamination. One of these precautions includes asking patients to rinse before their appointment begins. For more information on how your dentist is keeping their office safe and clean, just give them a call.
About the Author
Dr. Anthony Feck is a dentist in Lexington, KY who has mentored thousands of dentists across the country. He is the co-founder of the Dental Organization for Conscious Sedation (DOCS), where he is the dean of faculty and clinical director for IV sedation. He keeps his practice clean by adhering to all of the CDC's guidelines listed in this post and more. To learn more about how safe Dr. Feck's practice is, you can contact him at (859)-223-4644.