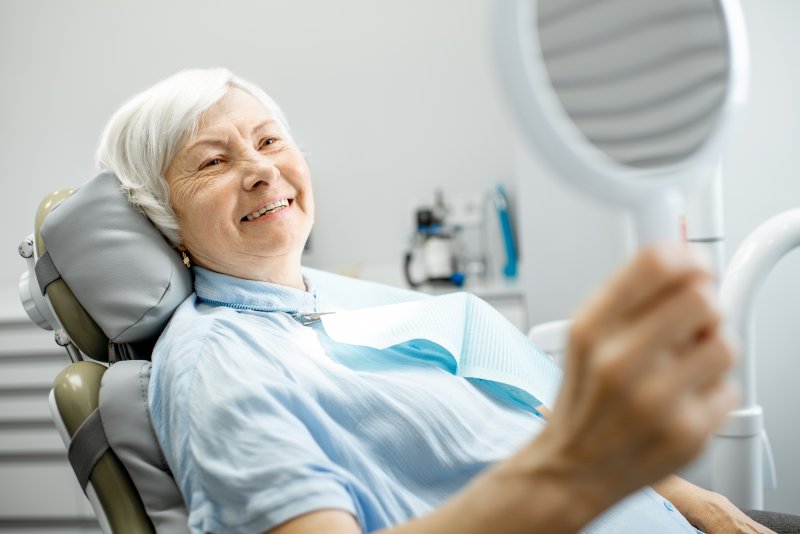 Did you know that 33% of Americans are unhappy with their smile? Plus, 48% have untagged themselves from a picture on Facebook because they didn't like the way their teeth looked and 22% believe a better smile would improve their love life. Fortunately, advancements in cosmetic dentistry allow patients to brighten, straighten, and otherwise perfect their smile. However, many patients wonder if they are too old for such treatments. The answer? Absolutely not! Everyone deserves a beautiful, healthy smile at every age. Read on for three ways a cosmetic dentist can help!
Remove Discoloration with a Teeth Whitening Treatment
Whether it is a result of daily coffee consumption or an unpleasant side effect of your medicine, many patients struggle with stubborn stains and unsightly discoloration. In fact, a recent study found that 80% of Americans want a whiter smile. The good news is that an in-office or at-home treatment provided by your dentist can whiten your teeth up to eight shades in a single-use!
Fix Worn-Down Teeth with Direct Bonding
The outermost layer of your teeth is made up of enamel, which is the strongest substance in the human body. However, it isn't indestructible. Over time, it can erode and leave your teeth vulnerable to decay, cracks, cavities, and other dental issues. While these issues may not necessitate restorative treatment from your dentist, they can leave imperfections on your teeth that are less than pleasant. Fortunately, you can opt for dental bonding, which is a non-invasive procedure that can brighten your smile, fix chips, and fill gaps in as little as one visit!
Undergo a Complete Smile Makeover with Porcelain Veneers
If the color, shape, and size of your teeth cause you to cover your mouth every time you smile or laugh, then you should talk to your dentist about an encompassing solution, like porcelain veneers. Not only can this popular cosmetic treatment option fix misaligned teeth and lighten their shade, but it can also fix imperfections and change the length! So, if you are looking for a complete smile makeover, porcelain veneers are the way to go.
If you are self-conscious about your teeth, then there is no time like the present to schedule an initial consultation with a cosmetic dentist. From there, you'll be one step closer to a healthy, beautiful smile!
About the Practice
At Dental Wellness of Lexington, the latest technology and decades of world-class care come together to help patients of all ages achieve gorgeous smiles and pristine oral health. With their talented team at their side, Dr. Anthony Feck, Dr. Maxie Combs, and Dr. Carol Wilson use their extensive experience and clinical skills to create personalized treatment plans that accomplish jaw-dropping results. If you would like to speak with their team about upgrading your smile, visit their website or give them a call at 859-223-4644.