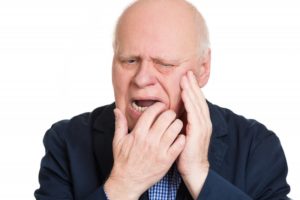 Dentures in Lexington are an excellent solution for tooth loss that allows you to quickly regain your complete, confident, and functional smile. Unfortunately, they're not indestructible. Just like a broken tooth, damaged dentures are considered a dental emergency that needs to be treated right away to keep your smile healthy. Here's everything you need to know about handling a broken denture.
What Causes Dentures to Break?
Knowing the most likely culprits behind broken dentures can help you protect your pearly whites in the future. Common causes of broken dentures include:
Natural wear and tear: After years of daily exposure to chewing, grinding, and acidic foods and drinks, dentures start to wear down and weaken.
Loose fit: Your mouth naturally changes shape after tooth loss, which will cause your dentures to eventually lose their close fit and become more prone to shifting.
Accidents: Whether you accidentally drop your dentures on a hard countertop or take a blow to the face while playing sports, there are plenty of ways you can accidentally damage your dentures.
Improper use: Using your teeth as tools to open packages, containers, and bottles may seem convenient, but one wrong move can easily injure your dentures.
What Should You So If Your Denture Breaks?
If you find yourself with a broken denture, your first step should be to call your Lexington emergency dentist. They'll help you assess your situation over the phone and help you determine what steps you need to take next. Depending on your situation, they may instruct you not to wear your dentures or what temporary fixes they recommend until you can come in for an appointment in a few days. Other times, they may ask you to come in right away for an emergency appointment. Even though your dentures aren't "real teeth," they play a key role in eating, speaking, and enjoying your everyday life. Wearing broken dentures can end up hurting your gums and jaw, so they'll want to see you right away!
Can Broken Dentures Be Repaired?
When determining how to restore your smile, your Lexington dentist will take a close look at what type of damage your denture has sustained. If it has a minor chip or crack, they may be able to use tooth-colored composite resin for a quick repair. Sometimes, broken dentures can be readjusted to correct the issue. However, if the denture is seriously damaged, it may need to be sent back to the dental lab for major repairs or to be replaced entirely.
Thankfully, your dentures should stay beautiful and intact for many years to come with the proper care. If your dentures ever start to cause you discomfort, give your dentist a call right away to get the care you need!
About the Practice
The highly experienced dental team of Dental Wellness of Lexington is committed to providing personalized, high-quality dentistry that goes above and beyond. With the help of their state-of-the-art dental technology and the latest techniques, they're proud to offer a variety of solutions for tooth loss, including dentures. Should you find yourself in need of urgent dental care, they accommodate same-day emergency appointments so you can get back to enjoying your happy, healthy smile. If you have questions about your dentures, they can be contacted via their website or at (859) 223-4644.