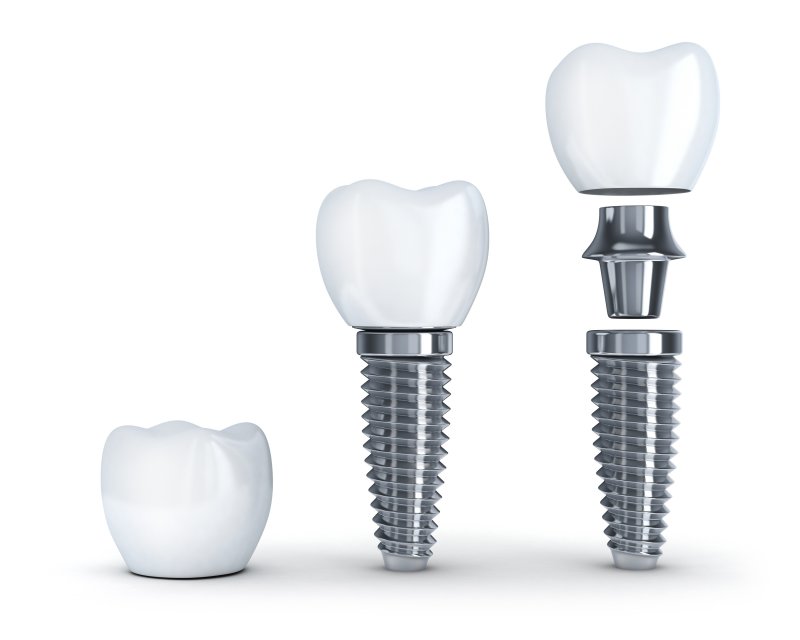 Did you know there are three types of dental implants? Considered to be one of the most versatile methods of tooth replacement available, these permanent prosthetics make it possible for individuals with one, multiple, or an entire arch of missing teeth to achieve greater functionality. If you are suffering from tooth loss but are unsure if you qualify for this type of treatment, this article will discuss what your dentist will look for during your initial consultation as well as which dental implant you can expect to receive.
What Are the Three Types of Dental Implants?
Tooth loss, no matter how minor or severe, can create a host of challenges. From the inability to eat and speak to the embarrassment felt when attempting to smile, choosing a solution that offers the chance for a full and more enjoyable life is essential. When it comes to dental implants, you might assume they're only possible for people with an entire row of missing teeth, but that is simply not the case. If you're one of the more than 120 million adults in the United States with a single missing tooth or someone with multiple missing teeth, you, too, can receive dental implants.
Here are the three dental implants in Lexington you and your dentist will discuss:
Implant Crown: Using a single titanium post, metal abutment, and a customized dental crown, your dentist can easily replace just one missing tooth. Mimicking the natural tooth structure, it requires no altering of your healthy abutment teeth like it would if you were to receive a dental bridge.
Implant Bridge: With the help of two dental implants, you can have a customized bridge created to sit on top of your posts, effectively filling in the gap of your smile. Because they are surgically placed into the jawbone, they will stimulate this area to ensure bone resorption doesn't occur and negatively impact your smile. Also, if your missing teeth are not consecutive, an implant partial can be created to ensure a complete look and feel.
Implant Denture: Using between 4 and 8 dental implant posts, your dentist can secure them to your jawbone before placing fabricated implant dentures in Lexington. Offering greater strength, durability, and bite force, you will be able to chew, eat, smile, and speak with greater confidence. Unlike traditional dentures that only rely on your natural suction, these are fused with your jawbone to create a solid foundation for your new smile.
Who is a Good Candidate for Dental Implants?
When meeting with your dentist for an initial consultation, they will examine your oral cavity and facial structure to determine three things:
Your oral health: Do you show signs of gum disease or tooth decay? If so, you'll need periodontal therapy or tooth extraction before moving forward with dental implant treatment.
Your overall health: Do you suffer from an autoimmune disorder or any other health condition that could make it unsafe to undergo minor oral surgery or potentially cause implant failure?
Your jawbone density: Do you have enough jawbone to support your prosthetics? If not, you'll need bone grafting to create a stronger base for your implants and restoration.
No matter if you're cleared for implant surgery immediately or require preliminary treatments, dental implants are a viable option for most adults. Don't wait another day to get the help you need to start embracing a better quality of life.
About the Practice
At Dental Wellness of Lexington, you can count on our team of dental implant experts to be with you as you navigate the process of receiving these superior, permanent prosthetics. Completing the entire procedure in-house from start to finish, our nationally-recognized implant professionals will ensure your oral surgery is safe, comfortable, and pain-free. If you are feeling anxious about your upcoming procedure, visit our website or call (859) 223-4644.