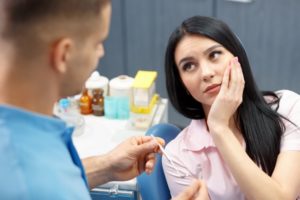 In a perfect world, no one would ever have to experience a dental emergency. Unfortunately, it's impossible to completely prevent a tooth from aching or becoming cracked, broken, or knocked out. These situations can be stressful and scary, so knowing what to expect in advance can be a huge help. Although every dental emergency is different, here are six of the most common treatments that your emergency dentist in Lexington might use to heal your smile.
Direct Bonding
For a minor yet noticeable chip or crack in a tooth, direct bonding might be the easiest solution. Your dentist uses a tooth-colored composite resin to repair broken enamel, making your tooth look and feel like new again.
Dental Crown
A more severely damaged or decayed tooth may require a dental crown. This custom-made cap fits over the entire section of the tooth above the gumline, protecting it from further damage while also restoring its appearance.
Gum Disease Treatment
If your gums are sore or inflamed and bleed easily, you might have periodontal disease, also known as gum disease. Without treatment, this bacterial infection could result in tooth loss. Luckily, it's possible for your dentist to reverse gum disease with periodontal therapy to avoid irreversible damage.
Root Canal Therapy
You may have heard the rumors that root canals are painful, but in truth, they're actually designed to relieve the pain of a seriously infected or injured tooth. With this procedure, your dentist removes the compromised tissue from the inside of your tooth. This not only eliminates pain, but it also prevents the problem from spreading to adjacent teeth.
Tooth Extraction
Dentists will always do their utmost to preserve your natural smile with procedures like root canal therapy. However, if the tooth is damaged beyond repair, an extraction may be the best choice for your oral health. Keep in mind that you'll need to replace the tooth eventually to avoid complications in the future.
Tooth Reattachment
If your tooth has been knocked out, your dentist might be able to replant it if you act quickly. Avoid touching the tooth's roots and keep it either in your mouth or in a container of milk until you can reach your dentist's office. Try to arrive within 30 to 60 minutes of the incident – after that, the chances of successful reattachment begin to diminish dramatically.
Dental emergencies tend to arise out of nowhere and cause a great deal of anxiety. Knowing some of the possible treatments your dentist may recommend can help you stay calm, which is a crucial step when it comes to saving your smile!
About the Practice
The highly experienced team of dentists at Dental Wellness of Lexington is dedicated to providing personalized, high-quality care that exceeds all expectations. By combining state-of-the-art dental technology and innovative techniques, they're proud to offer a variety of solutions for dental emergencies, including the treatments described above. They even provide same-day emergency dental care! If you're experiencing a dental emergency, contact them via their website or at (859) 223-4644.