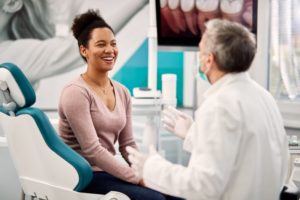 After searching the internet for the best way to replace your missing tooth, you find all kinds of information about dental implants. Perhaps you've learned all about the process and feel like you already know enough about this treatment, but you're missing an important step before you can move forward—the consultation! You need to meet with a qualified dentist in Lexington and have a discussion. What questions should you ask them if you already have a pretty firm grasp on implants? Read on to find out!
Am I a Good Candidate for Dental Implants?
One of the main purposes of the consultation is to determine whether implants are a good option for replacing your teeth. In order to qualify for this treatment, you and your mouth need to be healthy, and your jawbone must have enough density to support the implant. A thorough exam and some detailed scans from a CT cone beam scanner, as well as a discussion with you about your goals and needs, will confirm whether you are eligible for implants.
If you do not initially make a good candidate for implants—for example, if you have gum disease—it doesn't mean you can never receive these tooth replacements. With some additional treatment, you can be considered for it later on after the impediments have been taken care of.
Do You Perform the Entire Implant Process, or Do You Refer to a Specialist?
From the start, you need to know whether your dentist is going to be handling every step of the implant process themselves. In some cases, dentists refer patients to a specialist, such as an oral surgeon or a periodontist, for the placement portion. If you are looking for a more streamlined experience with the same team throughout the process, this is a smart question to ask upfront.
How Much Will Implants Cost?
For many patients, the price is a major concern. However, it's only after you've been examined can a dental office give you an accurate estimate of the cost. Save this question for the end so that the team can consider all your needs before providing an idea of what you can expect.
What Options Do You Offer for Making Implants More Affordable?
Although certain portions of the implant treatment may be partially covered, such as the restoration, dental implants are not typically covered by dental insurance. This means that you'll likely have to pay most of the cost out-of-pocket. However, most dental practices are willing to work with you on payment plans and help you apply for CareCredit or Lending Club financing. These companies allow you to pay for implant treatment with lower monthly payments, which are much easier to manage than a one-time payment.
In the end, the consultation is an essential part of planning for dental implants. It gives you the opportunity to ask these questions, get additional information, and make smart decisions for your oral healthcare. Make sure you're ready for this appointment with these and any other questions you may have so that you feel completely confident in your choice.
About the Practice
At Dental Wellness of Lexington, we are happy to have three highly skilled and trained dentists on staff. Although they come from various professional backgrounds, they seamlessly work as a team to deliver the best possible care for patients. For dental implants, we perform every step of the process in-house, which means you can continue working with the team you know and trust. If you would like to schedule a dental implant consultation, you may contact us by visiting this page or by calling 859-223-4644.