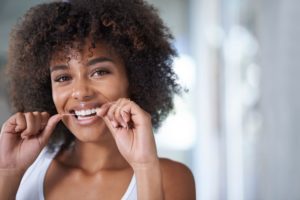 If you're like many people, you've known that you should floss every day, but you just haven't gotten around to it yet. Why not change that in 2022? After all, a brand-new year has just begun, making now the perfect time to add flossing to your daily routine and keep your smile healthier in the long run. Of course, starting and maintaining a flossing habit can be difficult, but as long as you follow these tips from a dentist in Lexington, this could be the one New Year's resolution that you actually keep!
Why Is It Important to Floss Every Day?
Brushing your teeth every morning and every night is great, but your toothbrush can't reach the spaces between your teeth. Without flossing, you're only cleaning three out of the five surfaces of your teeth. That's only 60%, which would be like not washing your arms or legs when you shower!
Flossing is the only way to clear food debris from between your teeth and prevent plaque from gathering in these spaces. Plaque is filled with harmful bacteria that can cause cavities and gum disease. When plaque isn't removed on a regular basis, it hardens into tartar, which further increases your risk of oral health problems.
Tips for Starting & Keeping a Flossing Habit
Now that you understand the dangers of not cleaning between your teeth, here are some tips that can help you get in the habit of flossing.
Identify Why You Haven't Been Flossing
First, you need to ask yourself what's stopping you from flossing:
"I keep forgetting" – These days, technology has made it easier than ever to remember your daily habits, including flossing. Try setting alarms or downloading apps designed to remind you to floss.
"I don't have enough time" – Surely you have a minute or two of downtime throughout your day. Bring your floss with you and floss at stoplights, or bring it to work and floss while reading your emails.
"I'm too tired to floss before bed" – You can floss at any time of day, even when you're not also brushing. Some flossing is much better than no flossing!
"I just don't like it" – If you find traditional floss uncomfortable or awkward, ask your dentist about other options, such as floss picks or a water flosser.
Set Realistic Goals
It's simply not sustainable to go from zero flossing straight to flossing between all teeth every day. Start by resolving to clean between just a few teeth a couple of times a week. Once that has become a habit, then you can start flossing between more teeth more often, until flossing between all of your teeth each day has become second nature.
Create Cues
If you tend to forget to floss, and don't want to rely on your smartphone for reminders, you could set cues to help you remember. For example, you could place a sticky note on your bathroom mirror, set your floss container right in front of (or on top of) your toothpaste, or even tie a piece of floss around your toothbrush!
Starting a daily flossing habit can be intimidating, but these tips should help. For more personalized advice, don't hesitate to reach out to your Lexington dentist!
About the Practice
With three exceptional dentists at the helm, our team at Dental Wellness of Lexington would love to help you meet your smile goals for 2022 and beyond. Our state-of-the-art technology, comprehensive services, and experienced dentists help us meet all of your family's needs in one convenient location. For more tips on maintaining a flossing habit in the new year, visit our website or call 859-223-4644.